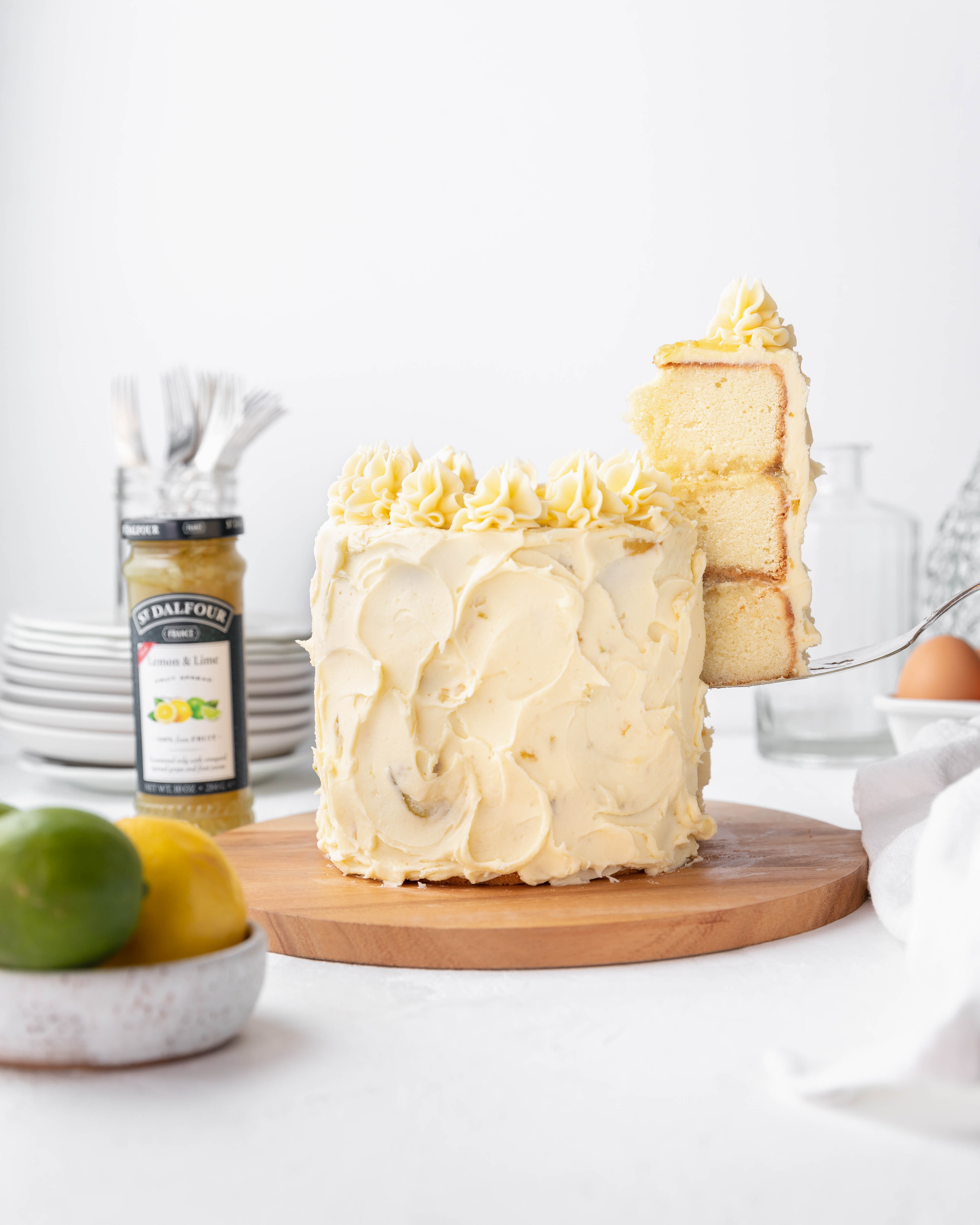 Recipe courtesy of @sweetfixbaker
INGREDIENTS
Coconut Cake:
2 1/2 cups all-purpose flour
1/2 cup cornstarch
3 teaspoons baking powder
1/2 teaspoon salt
1 cup unsalted butter, room temperature
2 cups granulated sugar
4 eggs, room temperature
1 can coconut milk (approximately 400ml), well mixed
1 tablespoon pure vanilla extract
1 teaspoon coconut extract
Citrus Buttercream:
1 1/2 cups unsalted butter, room temperature
1 1/2 teaspoons pure vanilla extract
6 3/4 cups powdered sugar, sifted
1/2 teaspoon salt
4 tablespoons St. Dalfour Lemon & Lime Fruit Spread
1 tablespoon lemon juice
1 1/2 cups St. Dalfour Lemon & Lime Fruit Spread for the filling
Coconut Simple Syrup:
1/2 cup granulated sugar
1/2 cup water
1 tsp coconut extract
INSTRUCTIONS
Coconut Cake:
1. Grease sides and line with parchment paper the bottom of three 6 in baking pans; pre-heat oven to 150 C.

2. On a separate bowl, mix flour, cornstarch, baking powder and salt and set aside.

3. In medium-high speed mix butter and sugar until light, fluffy and until color turns whitish, around 5 minutes. Add eggs, one by one, beating after each addition.

4. Turn your speed to a medium-low. Mix coconut milk with vanilla and coconut extract. Alternate flour mixture and coconut milk mixture, beating in between, until all flour and coconut milk are incorporated in your batter. Do not over beat!

5. Pour batter evenly in prepared pans and bake for 40-45 minutes or until a tooth pick inserted in the middle comes out clean.

6. Place in a wire rack to cool completely before frosting.

Citrus frosting:
1. Beat butter and vanilla, until light and fluffy, around 2 minutes, gradually, add powdered sugar and salt, and beat until fully incorporated. Add Lemon & Lime Fruit Spread and lemon juice and mix for 1 more minute.

Coconut Simple Syrup:
1. In a small sauce pan heat water and sugar in medium heat, until sugar is completely dissolved. Remove from heat and add coconut extract. Let cool completely.

Assembling:

1. To assemble your cake, remove the domes from your cake layers using a serrated knife or a cake leveler, until all layers have the same height. Brush the top of your fist layer with coconut simple syrup.

2. Add just enough buttercream to cover the top of the first layer, then add a buttercream "barrier" to contain your spread. Fill with 1/2 Cup of St. Dalfour Lemon & Lime Fruit Spread. Place the second layer and repeat this process.

3. Place the third layer and add a crumb coat to your cake: frost your cake with a very thin layer of icing to "glue" crumbs to your cake; refrigerate for 10 minutes.

4. Frost your cake with a thick later, then pipe on top a barrier to contain the spread, fill with 1/2 cup of fruit spread and enjoy!